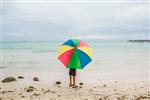 Summer is a great to time to let our children play, relax and decompress from a busy school year!

But - If looking for some math ideas to occupy some of their downtime, here are a few ideas to help prevent the "Summer Slide":

Play games to practice addition, subtraction, multiplication or division facts at Arcademics.com
Parents can create a free account for a Summer Math program at Splash Math K-5

Looking for some workbook ideas?

Try the Math Challenge below
Find the value of each image below. Email Ms. VanSickle at avansickle@greenhills.org with your answer.